RAYZ THE GAME
RayZR 125 Fi with Hybrid power assist is powered by air cooled, fuel injected (Fi), 125 cc blue core engine. The unique "Automatic Stop & Start System" prevents engine idling and subsequently starts with a single throttle twist which uses the sensors to assess the riding environment. The "Smart Motor Generator (SMG)" fitted to the RayZR 125 Fi Hybrid brings a quieter engine start without the need for a separate conventional electric starter. Headlight is equipped with LED Position Light for enhanced visibility. It comes with Digital Meter Console and Y-Connect Bluetooth connectivity to create a strong bond between Scooter and Rider.
Level-up your game with the RayZR. Zip, zap, zoom ahead of the rest, command every turn with cool confidence. And while at it, captivate everyone around you with the electrifying colours. Go on, choose your shade and raise your game.
*Digital meter, LED Headlight & Y-Connect features available in Disc variant only.
---
Motorcycle-Like Tough and Sporty Design
RayZR 125 Fi is built on the concept of "Armoured Energy". A sturdy built design and weight that's at 99kgs makes your ride agile and quick. The "Motorcycle-Scooter Evolution" design from Yamaha is also reflected in the sporty and sharp characters of the RayZR.
RayZR 125 Fi Hybrid Design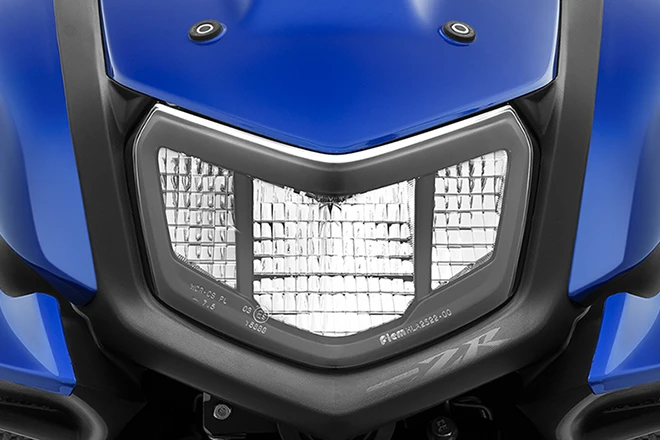 LED Headlight*
The RayZR is not just built tough. It's also built with a lot of panache. Take for instance the iconic LED Headlight. It's got so much style and character that it becomes an obsession.
*Available only on Disc Variants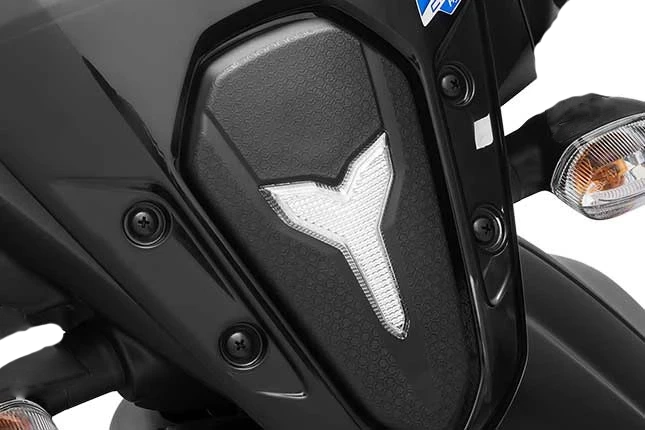 LED Position Light
Turn left or right, or go straight ahead, whatever you do, you can do it in style with the impressive LED Position Light of the RayZR.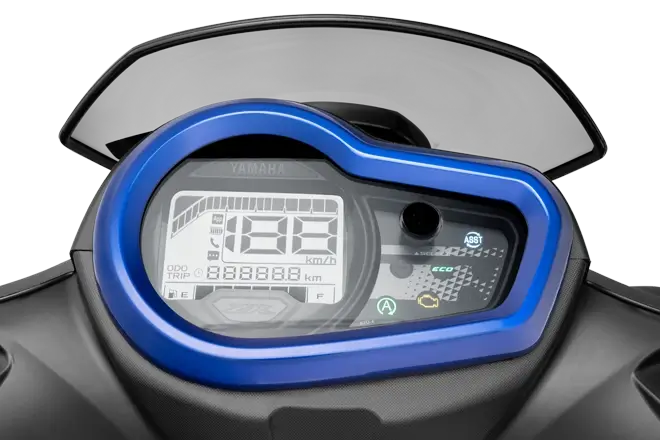 Full Digital Instrument Cluster(with Y-Connect)*
Designed with finesse, the Digital Instrument Cluster is sharp, focused and crystal clear. You can get all the info you need with ease, while on the go.
*Available only on Disc Variants
RayZR 125 Fi Hybrid Features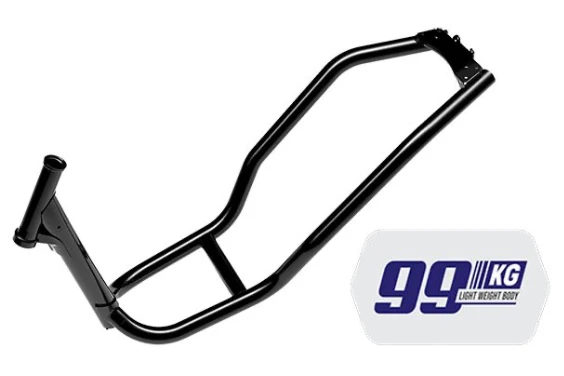 Light Weight Body
The new RayZR is built like a tank but doesn't weigh like one. At 99 kgs, The reduced weight gives you a great pick up, better handling and better mileage.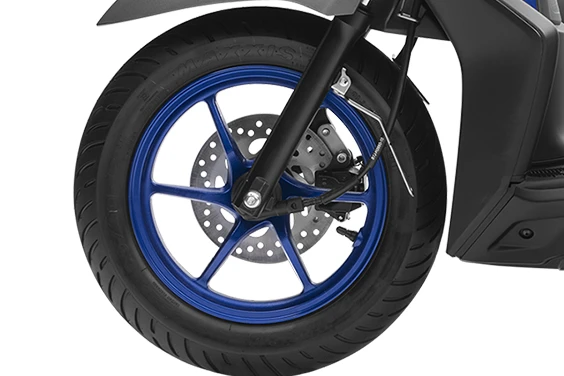 Telescopic Suspension
RayZR uses telescopic suspension in front and gives you control no matter which terrain you decide to ride on. With this innovative suspension setup, every road feels like a smooth ramp no matter what its condition.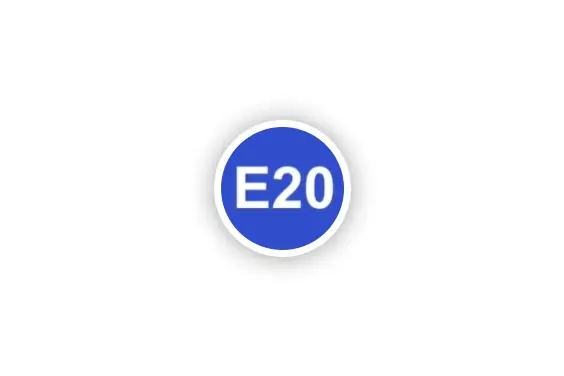 E20 Fuel Compatible
E20 Fuel reduces the emissions and is wonderful option for cutting down on pollution. As part of our carbon reduction commitments, We have updated the RayZR to be compatible with E20 Fuel.
Y-CONNECT APP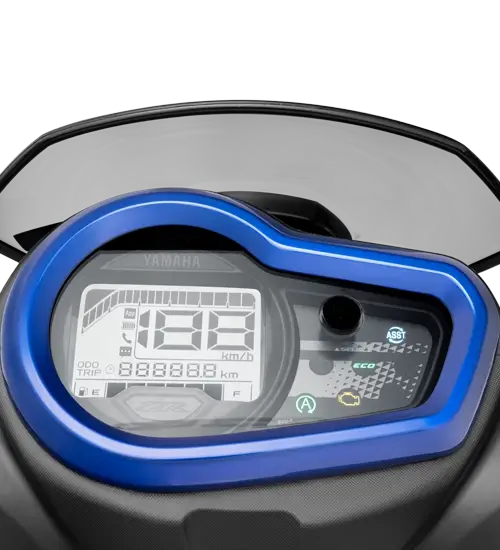 The Yamaha Y-Connect App displays phone notifications on your instrument cluster screen –
CALL ALERT
Alerts you of any incoming or missed calls
SMS & EMAIL
Get notified every time you receive a message or email on your phone
APP CONNECTIVITY STATUS
Informs you of the bike's connectivity with the Y-Connect app on your phone.
PHONE BATTERY LEVEL STATUS
Displays the smartphone's battery level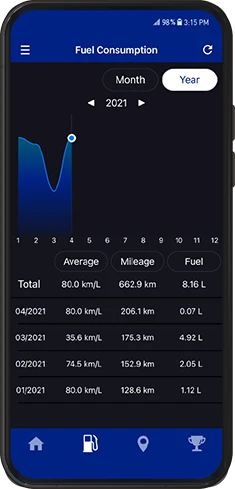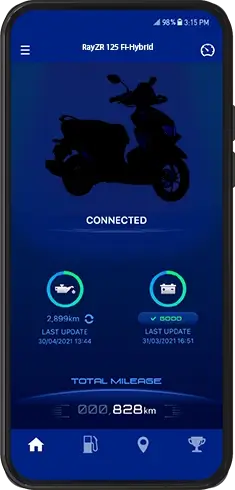 Maintenance Recommendations – This app consolidates and analyses the bike data and sends you recommendations. For example, it keeps tabs on battery status and indicates either with a "Good" or "Check" notification.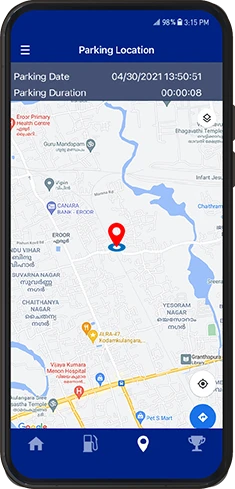 Last Parking Location – The last parking feature of the app gives you information about where you last parked your bike*.*If the machine has been moved since it was parked, it cannot be tracked via this function.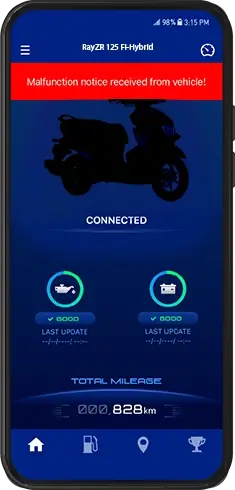 Malfunction Notification – Should the machine suffer a breakdown or malfunction, the app indicates so on the smartphone. It can also be verified on the phone as part of the bike's records.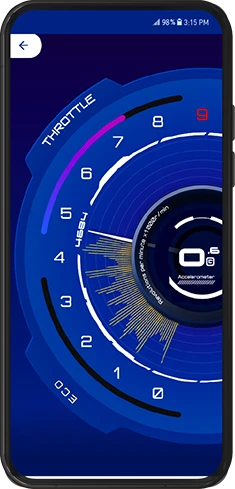 Revs Dashboard – The smartphone screen can also function as the Revs Dashboard, that displays data that is not available on the bike's instrument cluster, such as Engine RPM, Degree Of Throttle Opening, Rate Of Acceleration, Eco-friendly Riding Indicator and Real-time Fuel Consumption.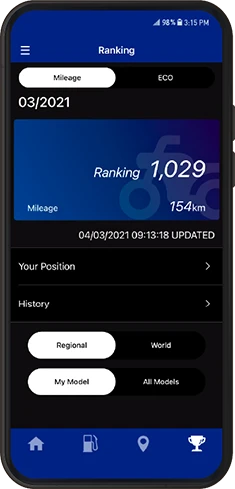 Ranking – This app connects with other Yamaha riders app and maintains a ranking of the riders in terms of distance travelled and how eco-friendly their riding has been.
RayZR 125 Fi Hybrid Gallery
RayZR 125 Fi Hybrid Comfort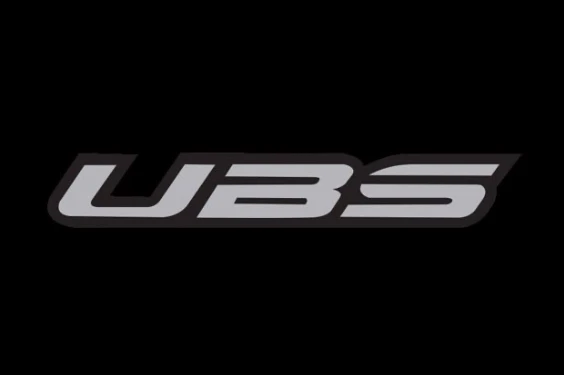 Front Disc Brake with UBS
Enjoy the best ride quality on any road condition. The 90/90-12 front tyre and cast wheel combined with a disc brake setup delivers impeccable riding control, safety and comfort.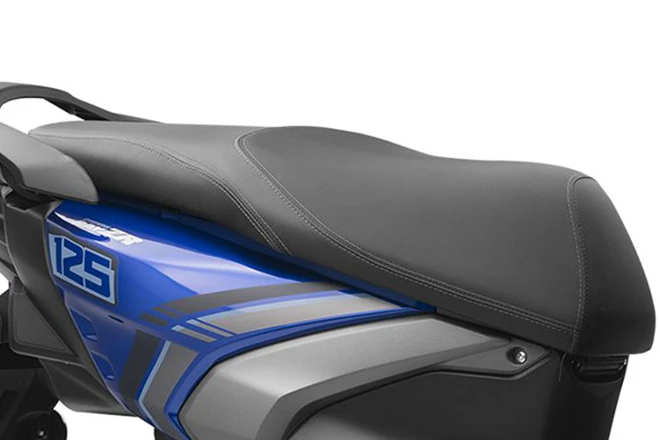 Two Level Seat
Seating position is as crucial for the pillion as it is for the rider, the two level seating provides great comfort to the riders and a distinctive silhouette that sets it apart from its peers.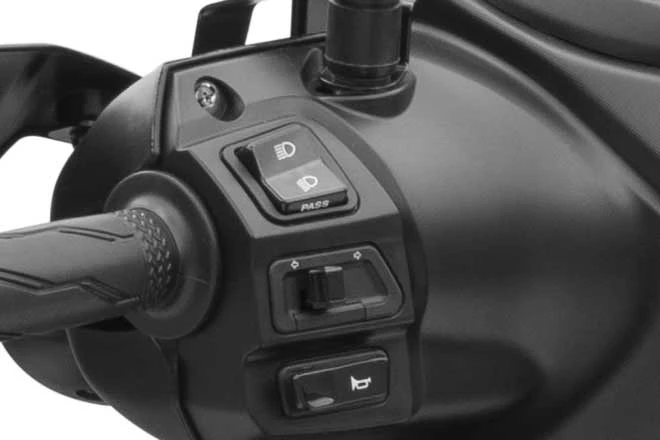 Pass Switch
The RayZR pass light makes overtaking a breeze. It alerts the vehicles ahead of you that you are going to overtake them. Pass light is mostly used during night driving. In the night, the light shines brighter and helps in alerting others.
Convenience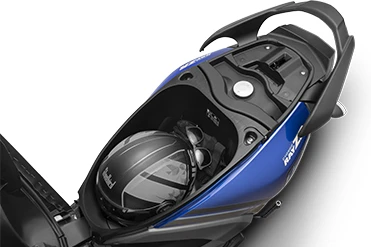 21L Large Under-Seat Storage
When you are out for adventure, you'll need to cary a lot of stuff along. A large under-seat storage of 21 Ltrs ensures that you have enough space to carry all your gear. Now you can enjoy the adventure rather than worry about carrying stuff.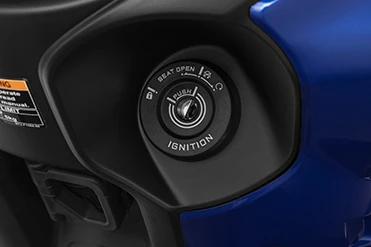 Multi-function Key Switch
Open the doors to a vast array of features with just one single key. The multi-function key switch makes sure that your needs are fulfilled at the tip of your fingers. Think of it as the key to your RayZR world.
RayZR 125 Fi Hybrid Performance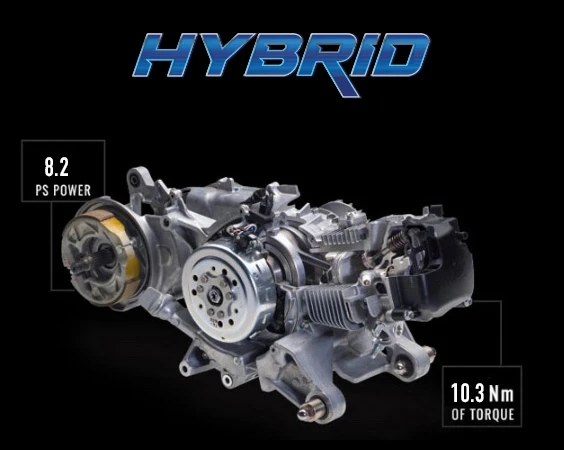 125cc Fi with Hybrid Power Assist Engine
The all new RayZR is powered by an air cooled, fuel injected (Fi), 125 cc blue core engine. The SMG charges the onboard battery. The SMG along with the engine produces 6.0kW(8.2PS) and up to 10.3 Nm torque for quicker acceleration when starting from a stop.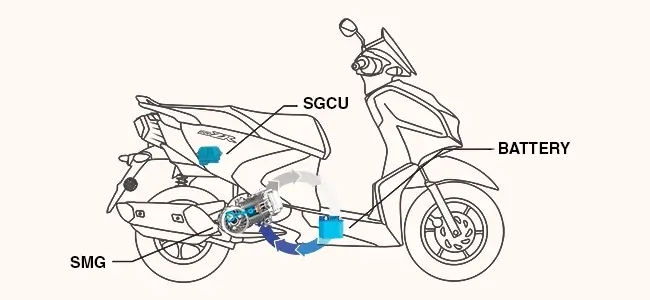 RayZR 125 Fi Hybrid Fuel-efficiency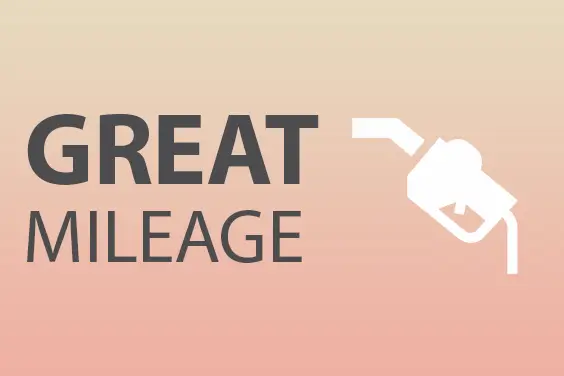 Great Mileage
Thanks to Blue Core Hybrid engine and Automatic Stop & Start System, enjoy in style without worrying about the mileage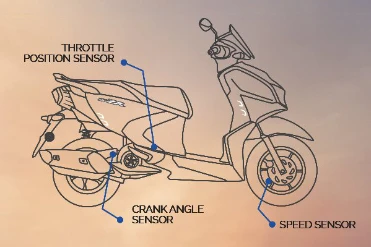 Automatic Stop & Start system
When certain conditions are met, the Stop & Start system automatically stops the engine when the vehicle is at stop and idling, thereby helping to save fuel. The rider can easily re-start the engine and get underway again by simply twisting the throttle, which quickly fires up the engine.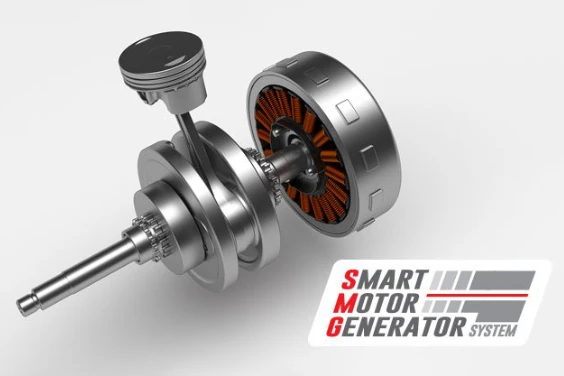 Smart Motor Generator – Silent Start 
It enables you to turn on the engine quietly and easily, whenever you are ready to go.